Benefits of Adding Live Chat to Your Website
In our line of work – hearing, audiology, hearing instruments – we know that communication is key. It is the foundation of any strong relationship. It is the foundation of our relationships with our clients, and our clients with their clients.
The same foundation of communication applies to the relationship you build with a client through your website. For the majority of customers, seeking information online is the most convenient and efficient way – and it affords a level of discretion and privacy, which may be of importance to people who are dealing with changes in their hearing. Adding live chat to your website will increase both the amount of information your potential customer receives as well as the ease with which they receive it.
Resources on your website will provide much in terms of information on hearing loss, causes, types, and treatments available. Short of giving you a call, your website should provide your potential customer everything they need to understand the next steps they should take. This "next step" is known as a "conversion rate" in digital marketing.
By adding live chat to your website's design, we believe that conversion rates will be increased for your business – especially with people who are experiencing changes in their hearing. Before we get into live chat, let's discuss conversion rates and their importance.
Understanding Conversion Rates
The term "conversion rate" is a marketing term that refers to "the percentage of visitors to a website that take a desired action." Depending on the nature of your site, desired action may take different forms – such as the amount of contact and sale of products, in the case of hearing and audiology practices. According to Marketing Terms, an Internet marketing resource, "The interest level of the visitor is maximized by matching the right visitor, the right place, and the right time."
Imagine a new customer happening upon your website, searching for specific information. While your site offers many resources and a wealth of information on hearing loss, hearing exams, services provided, and products offered, your potential customer may reach the end of information and have questions about how to proceed. But – they are not ready yet to make that call to schedule an appointment. There may be unanswered questions still. In this moment, the key to increased conversion rate is to keep your customer on the website.
By offering live chat with an some one from your practice, you'll continue to engage your customer while also giving them the added layer of discretion and anonymity that people experiencing changes in their hearing may initially seek. Additionally, because we are working with people who are experiencing difficulties in their hearing, the process of live chat is much simpler than attempting to have a conversation on the telephone – which as we know, proves difficult for those experiencing hearing loss.
Live Chat is Convenient for Customers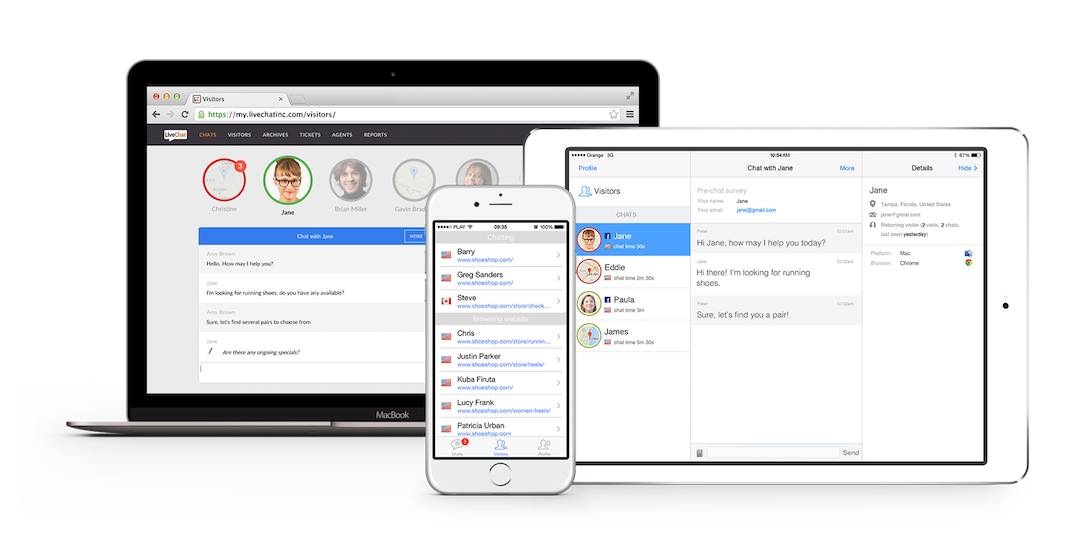 Our customers are already struggling with conversation in daily life – we know this as an early sign of hearing loss. With live chat on your website, customers have visual communication that eliminates the frustrations of communicating over the phone with hearing loss.
At the same time, the implementation of live chat answers questions and addresses issues with the expediency of a spoken conversation. The personal nature of a conversation may also add a level of comfort for your potential customer, who may be experiencing concerns and stress about the next steps they should take.
It is important to note that live chat should be offered as an option – and should not be intrusive (i.e. it pops up, rather than the customer choosing to use live chat). According to a 2014 report from KoMarketing "60% of respondents indicated that they found 'intrusive live chat' a definite turnoff" but "people found live chat helpful when they needed it."
At the same time, the fact that customers are talking to real people on live chat builds a sense of trust. The same survey found that "52% of people consider that thorough contact or about information is very important to build credibility." In other words, a live human chatting with a customer helps to forge a connection to your business. Where the Internet is a sea of anonymity, the option of live chat with a human at your small business keeps it personal. For folks who may be experiencing social isolation due to the onset of hearing loss, this connection may be crucial to ensuring that they seek an evaluation of their hearing abilities.
Live Chat has been Proven to Increase Conversion Rates
In order to understand the benefits of live chat, we must first consider the goals when a customer visits your website.
Many people seeking information on hearing loss may be experiencing changes in their hearing – or they know someone who is. As they're looking around at the resources you offer, consider what you want their next step to be as a potential customer?
As an audiologist or hearing instrument specialist, it would be great if this person looking through the website were to come in for a hearing evaluation. Even if there are signs of hearing loss and potential available treatments listed on your site, hearing loss is not treatable just by looking at information online. The first step of treating hearing loss for this potential client is for them to physically visit your business and have their hearing evaluated by you, in person.
As such, the desired action in this instance is for this person to schedule a consultation with you at your practice to being the process toward better hearing health. How do we convert this desire into action?
According to Syzmon Klimczak of LiveChat, a provider of live chat software, "From my experience, 10-30% increase in conversion rates can be expected on the transactional websites that have a reasonable amount of traffic that justifies using chat, and if LiveChat is properly implemented…Historically, it is said that live chat conversion is about 10 times higher than the conversion of an average site."
Focusing on the Relationship, Not the Transaction
The work of ensuring better hearing health is a very personal line of work. Audiologists and hearing instrument specialists conduct evaluations by communicating with people and gauging their responses to sounds and speech.
In this sense, the very nature of our business is to create trusting relationships and build relationships based on clear communication. What your customer tells you about their hearing abilities and lifestyle greatly affects the decisions you reach together to determine the best treatment and solutions for their hearing loss.
Most of your customers will return time and again, as their hearing abilities change and their hearing aids need updating. The first moment of this relationship may be when they walk through your door and sit down for a hearing evaluation.
But – what if the first moment of this professional relationship begins when they arrive at your business's website?
The option of live chat on your website not only gives your potential client the option of a clear channel of communication with their questions answered efficiently. It also gives you the option to begin the cultivation of your relationship and inspire trust in this client as early as possible – which will benefit your business in the long run.
LiveChat helps you get in touch with your on-site visitors. Sign up now and start chatting today!
Interested in communicating with your website visitors? Sign up for a free trial below.
(psst…we'll even help you install it)
---

---